Allegories and the Renaissance technique in the art of painting:
Allegory is a form of extended metaphor, in which objects, persons, and actions in a narrative, are equated with the meanings that lie outside the narrative itself. The underlying meaning has moral, social, religious, or political significance, and characters are often personifications of abstract ideas as charity, greed, or envy.
Thus an allegory is a story with two meanings, a literal meaning and a symbolic meaning.
We use allegories in painting.
For example the following painting is an allegory of a person.
The violin symbolizes this person and his love for music. His three daughters are the three brushes. The two tubes of painting are his two marriages.
To the right the bottom book symbolizes his career in Medicine.
The book in the middle, the one that has been used more symbolizes his specialization in Psychiatry.
The book on the top, the thin one symbolizes his love for foreign languages.
The candle in the back left symbolizes the light of knowledge and his life.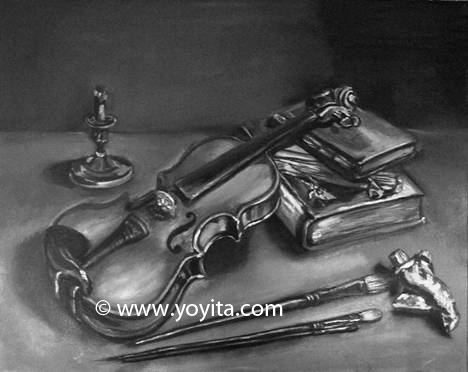 This painting is in grisaille (Renaissance technique), many layers of transparent colors will be applied later.
Yoyita
Atelier Yoyita
Arte Nicaraguense